Pediatric Services
---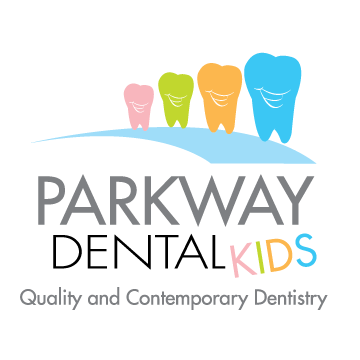 Our dentists here at Parkway Dental are so happy to take care of your family's dental health. We truly believe that educating children early on about dental health is very important. It does not make them aware of having good oral hygiene, but it also prevents them from having problems in the future. Our team here at Parkway Dental are experts in dealing with children's dental health, and they will make sure your children are comfortable and feel at ease during their treatment.
First Visit
Many parents aren't sure when it is best to take their children for their first visit to the dentist. However, dentists recommend that as soon as their first tooth comes out, you should start taking the right precautions to help their teeth develop into healthy and strong teeth to avoid issues in the future. Our pediatric dentists will advice you on how to take care of your child's dental health and carry out a quick examination of their teeth, gum and jaws to begin tracking their development. It is also a good way to get them used to visiting the dentist and making sure they grow up knowing what good oral hygiene consists of.
Kids Complete Check-up
During their first complete check-up, the dentist will start gathering information and keep track of your child's development. Although your children's milk teeth will fall out and make way for their permanent teeth – it is still very important to keep them healthy and educate your child about the importance of good oral hygiene. The complete check up consist of a thorough examination and cleaning.
Here at Parkway Dental we use the latest technology, the Cam-X SpectraTM is the only caries detection aid that works like Doppler radar to discover caries earlier.
Sealants
A very important part of the complete check up is applying sealants which will protect your children's teeth from decay and cavities. Sealants also act like a barrier that seals the tooth's surface and cusps of the teeth to create a smoother surface for the tooth and avoid food and bacteria from gathering in the crevices that naturally appear on teeth.
Fluoride Applications
Although a lot of over-the-counter products at stores contain fluoride, having your dentist apply fluoride after a check-up and cleaning can really help protect and strengthen your teeth. Fluoride will not only prevent bacteria from causing cavities, but also protect from agents that might stain or damage your child's teeth.
If you would like to bring your child and meet our dentists or have them in for their first dental visit, call us at (203) 248-0011 or visit us at 1869 Dixwell Avenue, Hamden CT 06514 to make an appointment today!